History of the Body, Poems by Melanie McCabe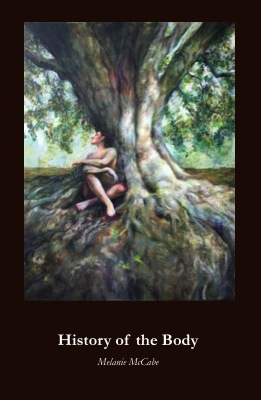 In Melanie McCabe's History of the Body, the body becomes history, the vessel of lived experience, of touching the world and being touched, and gesturing beyond that world's physical confines.
Sample Poems by Melanie McCabe
"In her stunning first book History of the Body, Melanie McCabe explores the shared, often uneasy narratives of house and body. Brilliant admixtures of imaginative wildness and lyric control, her poems seem an inevitable part of the 'industry of the heart and lungs'—and the collection as a whole, beautifully sequenced, thrums with the meant tension of an arbor, where 'the vigor of the vine is restrained, held at blade edge, but always breathing.' Welcome, Melanie McCabe."—Claudia Emerson

"Formally exquisite, the lucid poems in Melanie McCabe's History of the Body remind us that everything we know is embodied—language, memory, pleasure, loss. This debut will delight the reader with the poise of its intellect and the supple playfulness of its imagination. The history of the body, we learn in the poems, is one of lived sensations and sentiments: eros' radiance and grief's solitude, the borderless hour and an instance of ecstasy, the serious labor of love and the surprising enigma of a self within a given body. The poems attract us with the urgency and lure of their stories, with the flint-sharp precision of their lines."—Eric Pankey
"Melanie McCabe's History of the Body is told in all-out, passionate, pyrotechnic poems—emotional and intelligent, not by turns but all at once, as if the firework's burst of chrysanthemum light were fused with its boom in a single jolt. The poems are dazzling and they are shadowed with grief. They are achingly human and, at moments, witty and they are formally restrained and musically rich. Sensuous, sensual, and reflective, this book (a poetic page-turner!) tells the living history of a body—a female body—inhabited by a fierce, fiery mind."—Jennifer Atkinson
"The exquisitely polished gems in Melanie McCabe's debut collection, History of the Body, exude sensuality and shimmer with bodies of all kinds: women, flowers, trees, insects, birds, creatures of the sea, and the bodies of the poems themselves, taut with 'muscle memory / and grace.' McCabe conjures the lush world of suburban adolescence, and leads us, with her unflinching eye, through the bloom and ache of desire, and the inevitable loss that shadows any kind of want. These astonishing poems smolder, glitter, then blaze."—Erika Meitner
Melanie McCabe lives in Virginia. Her work has appeared on Poetry Daily, as well as in The Georgia Review, The Massachusetts Review, Barrow Street, Quarterly West, Nimrod, Harpur Palate, The Evansville Review and numerous other journals.
ISBN 978-1936370764, 84 pages