Meanwhile, Poems by Kathleen O'Toole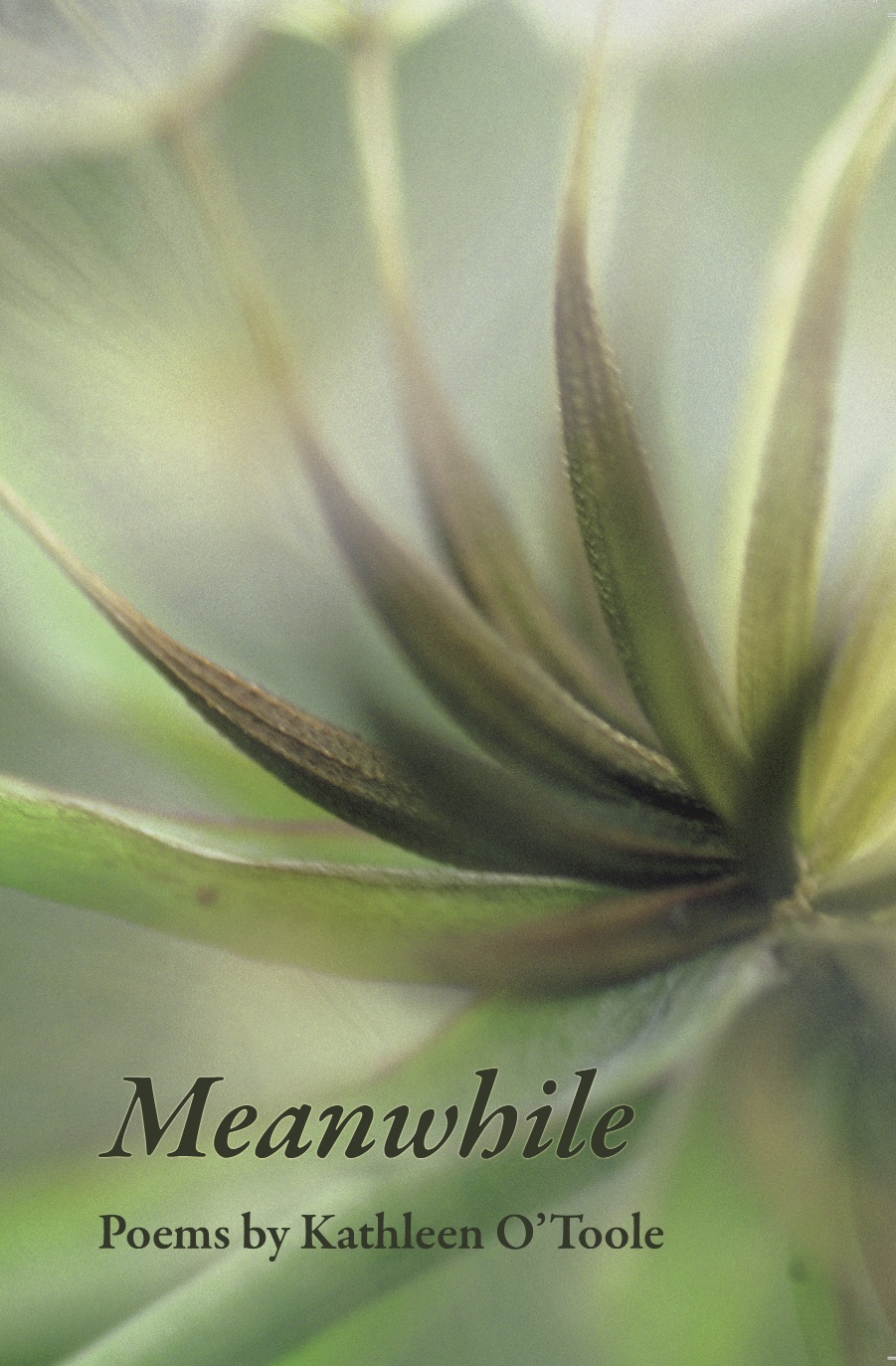 In Meanwhile, Kathleen O'Toole's precise lyricism works, in these poems, toward a lucidity that is etched as hard, taking shape, as one poem says as "the one unmistakable/rendering of my name."
Sample Poems by Kathleen O'Toole
"'Poetry is where you find it,' Kathleen O'Toole says, and as the poems in Meanwhile clearly attest, she finds it everywhere her alert and lively mind decides to rest: in a sculpture garden, in the demolition of a high-rise, in a blackberry patch, and in a plane hovering above the earth. The energy behind these poems is deeply meditative, and the natural world is O'Toole's cathedral – a world in which she has made a promise 'to pause, / to practice, to attend.' These poems are what is heard in those pauses, the gift of her long practice, and the fruit of her attentiveness. Reading them is like entering a deeply shaded garden on a stifling summer day."– Sue Ellen Thompson, author of The Golden Hour and winner of the 2010 Maryland Author Award
"These extraordinary poems by Kathleen O'Toole delve and soar, stay grounded and take flight, without apparent effort. There are police commanders here and parents, airplane take-offs and headless chickens, and repeated reminders of the poet's ability to practice what she describes as 'The potential of matter to hold/its opposite ….'  In Meanwhile, we find verse that does what fervent prayer and meaningful liturgy still accomplish: mixing reflection and vision, combining contemplation and action. This writer is both artist and minister. And her works are both poems and prayers."– Michael Gecan, co-director, Industrial Areas Foundation, author of Going Public
"In a quietly observed and meditated poem about the ancient Salado people of the southwest, Kathleen O'Toole notices how the shelters they made still mark the desert with an 'agile shade.' Agility is one of the unusual defining marks of Meanwhile, O'Toole's formally restless and graceful first collection – agility of imagination and intelligence. What I admire most about O'Toole's poems is how the prayer-like resolve of her meditations recovers the ancient, sacramental nature of lyric poetry."– Michael Collier,author of Dark Wild Realm and The Ledge, Director, Bread Loaf Writers' Conference
Kathleen O'Toole has combined a more than thirty-year professional life in community organizing with teaching and writing. Her creativity was nurtured in a family of actors in Wilmington Delaware, where her parents founded and ran a dinner-theater, and her mother introduced young people to theater. In 1991 she received an MA from Johns Hopkins University, and has taught writing at Hopkins and at the Maryland Institute College of Art. She currently works for V.O.I.C.E., an affiliate of the Industrial Areas Foundation in Northern Virginia, and lives in Takoma Park, MD with her husband John Ruthrauff.
ISBN 978-1936370245, 86 pages