What You Know in Your Hands, Poems by Elizabeth Poliner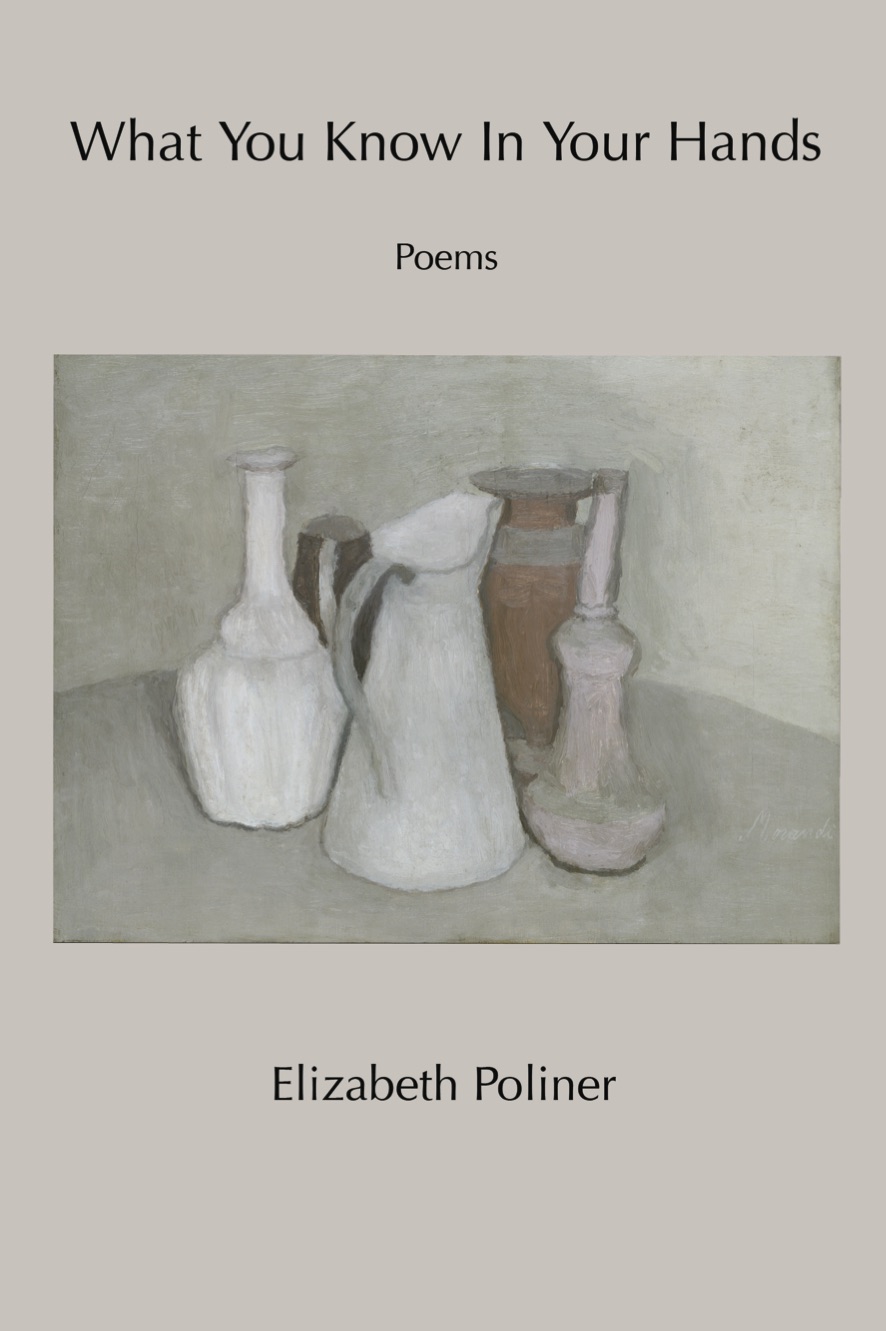 Elizabeth Polinerís poems are of painting, literature, and music, of family, memory, and loss. Whether set in Washington, D.C., the small Connecticut town of her childhood, or the coast of Maine, these poems speak with uncommon clarity and musicality as they explore the complexity of the human heart.
Sample Poems by Elizabeth Poliner
"Elizabeth Poliner's What You Know in Your Hands is so fiercely intelligent, deeply thoughtful, emotionally resonant, modestly crafted, and lucid that it reminds us readers that what we've always wanted from contemporary poetry is still available, albeit in short supply. Maybe it takes a lifetime student of visual art and music with legal training to give us literary art that's both plainspoken and quietly sublime."-David Huddle, author of Blacksnake at the Family Reunion and Glory River
"The affectionate and affecting poems of poet and novelist Elizabeth Poliner remind us of poetry's power to save and savor again what is lost, to bring it close once more: to restore, as her title suggests, what you have by heart because you have learned it hands on, by being in touch. Especially remarkable is 'Sudden Fog,' a moving account of the characters' good-bye to their author when the writing is done, verifying the mysterious nature and freedom of what we create."-Eleanor Wilner, author of Tourist in Hell
"Full of life, of weather, of the specific feel of childhood, the feel of wall-to-wall carpeting on 'bare legs, / the smalls of our backs,' the poems in Elizabeth Poliner's debut collection, What You Know in Your Hands, contemplate love and loss and potential, and especially the transformative nature of art: 'that day and this day, all of it pushed forth with a palette knife.' These are poems poised to capture that vision 'fast and peripheral, we're forever / unprepared for, like now when the sailboat suddenly lifts, heels, / telling us something new, utterly surprising, about the wind.'"-Carol Moldaw, author of So Late, So Soon: New and Selected Poems.
Elizabeth Poliner is the author of Mutual Life & Casualty, a novel in stories, Sudden Fog, a chapbook of poems, and As Close to Us as Breathing, a forthcoming novel. A recipient of numerous grants from the D.C. Commission on the Arts and Humanities, she has published work in many magazines and anthologies, including the Southern Review, the Kenyon Review, Seneca Review, Poetry Daily, and Full Moon on K Street: Poems about Washington, D.C. She teaches creative writing in the MFA program at Hollins University.
ISBN: 978-1625491497, 76 pages