Skeptic Traveler, Poems by Susan Snively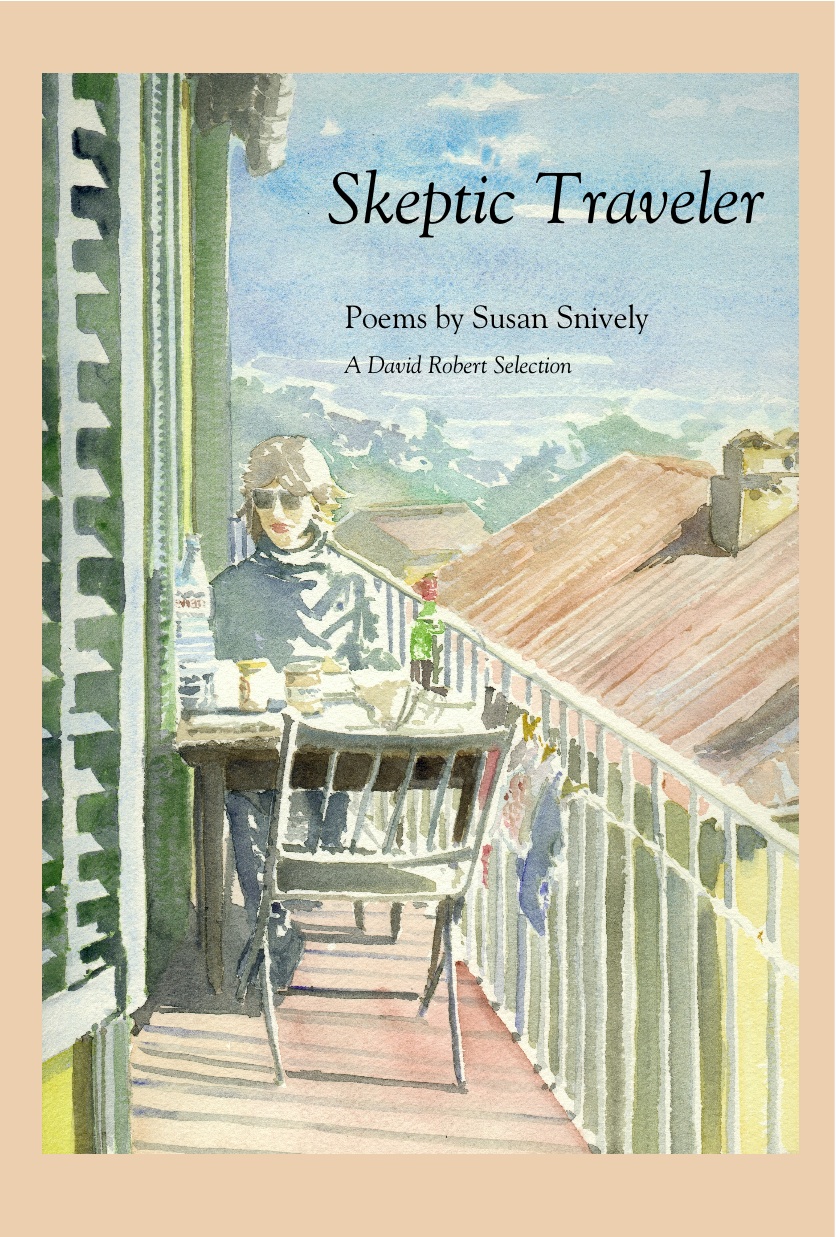 The elegant journeys undertaken in Susan Snively's Skeptic Traveler are excursions of the mind, seeing the world through eyes that never stop inquiring, interrogating, intuiting.
"Susan Snively's Skeptic Traveler urges us to be much more than alert tourists: her poems model engagement with the natural world, with family and grief, and finally with where and how we live. In sharp, sensual, ironic, witty poems (which offer many surprises, including surges into the passionate, or the sinister, or the political), Snively sets us on a voyage buoyed by dexterity and a strong iambic tide. She offers us such unexpected delights as 'shad roe, kielbasa, whole baby octopus,' and she persuades us to follow those 'who have found permission / to open the gates in the twining sentences / and lie down among fragrant perennials.'"—Annie Boutelle
"For Susan Snively, as with many a skeptic traveler before her, the distinction between traveling and merely being alive is sometimes hard to trace. Whether strolling through the capitals of Europe, counting the turkeys in her front yard, or recycling a stack of old Gourmet magazines, her curiosity and intelligence never fail her. Snively is a 'coolly hypervigilant' tourist whose letters and postcards are not to be missed."—Daniel Hall
Skeptic Traveler is a collection graced by intelligence, wit, and also by a feeling heart. Susan Snively's skepticism, whether exercised in traveling to other countries, to her familial past, or to the nooks and crannies of a complicated present, is a humane one: generous and alert to the multiple possibilities experience may yield; humorously inventive in turning those possibilities into lines of verse."—William H. Pritchard
Susan Snively's previous books of poetry are From This Distance (Alice James Books, 1981), Voices in the House (University of Alabama Poetry Series, 1988), and The Undertow (University of Central Florida Contemporary Poetry Series, 1998.) Her poems have appeared in The Southern Poetry Review, Prairie Schooner, Ploughshares, Shenandoah, The Antioch Review, The Florida Review, The Southern Humanities Review, and other magazines, and her essays have appeared in StorySouth, The Southern Review, The Florida Review (Editor's Prize, 1998), and The Tampa Review. She is Director of the Writing Center at Amherst College.
ISBN 1933456086, 96 pages