Water Tiger, Poems by William Kelly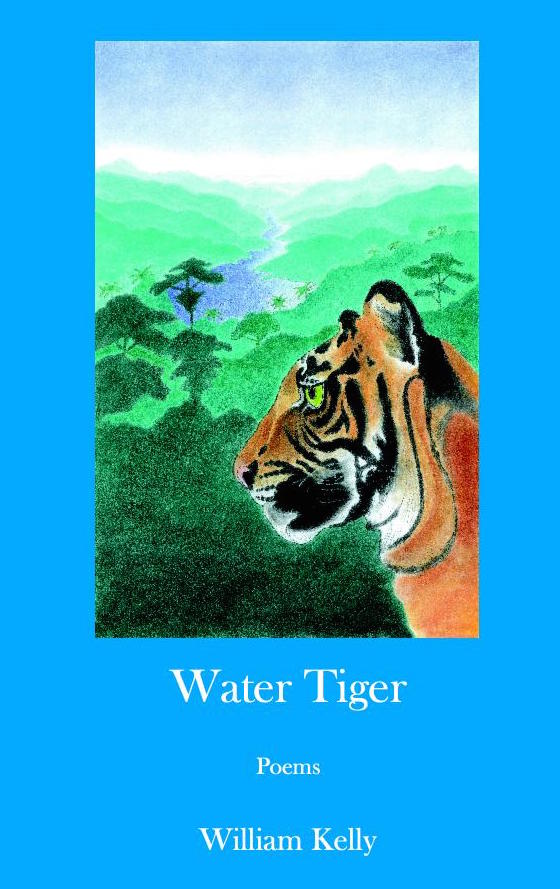 Water Tiger is a collection of lyric poems, free verse and fractured sonnets, in which William Kelly explores themes of love, madness, forgiveness, and empathy. Kelly takes the reader on an emotional journey ranging from mystical Ireland to the isolation of a painting studio and the desolation of a state hospital, ultimately finding peace and perspective among Adirondack trout streams as well as the rain forests of Central America. It is in the rich, healing religious mythology of the Costa Rican Bri Bri people that Kelly encounters the powerful, dangerous spirit creature known as the Water Tiger, whose presence is felt throughout the book.
"People think poetry is about palaver. No. It is about listening. A kind of listening out loud. And in William Kelly's poems —I am glad to get to know them— I am moved by how well he listens to the place around him, the mood of strangers, the fall of words. This is a big book full of surprises. There is an Irish spell here, a man thinking by ear."—Robert Kelly
"Whether watching trout nose in along the margin of a brook, or considering a half-finished painting in his studio, or drawing the anguished mind pictures of a patient in a mental institution, William Kelly is always searching for a secret way in to the edges at the heart of feeling. His eye is sharp and his range is wide and his poems gleam with 'immaculate gestures/of fleeting absolution.' In a grove of talking thunder, the Water Tiger waits. Watch for it."—Michael Ives
"In William Kelly's Water Tiger, readers will find a complex, wide-ranging, and evocative collection of poems, linked by several braided themes. Taken together, the poems evoke the story of a young artist's crippling loss, descent into a hallucinatory breakdown: 'Parallax, as if all/the planets shifted/and only you kept still', and slow recovery, to a wider world and a new love. Themes that appear and reappear include the making of art, as well as ekphrastic responses to works of art and to artists; humans in relationship with animals (lions, tigers, fish); a deep sense of place (the Dingle peninsula, Costa Rica and El Salvador, the Adirondacks). Throughout the entire work looms the traumatic early loss of a father, 'The years haven't loosened/any slack', which only approaches resolution near the end of the collection with 'the furious, gentle race to let him go.' These are moving poems, linking a painter's eye with a keen sense of the right word in the right place, both intense and deeply satisfying to read." —Pam Clements
"The poems in Water Tiger are poems of darkness and blinding light: salvation and redemption expressed in language that is accessible, yet elevated to the realm of art. With honesty, integrity, and courage, William Kelly helps us understand what it is to be human in our time--to feel wonder and joy, to love, to bear incredible sadness and to be a witness to life and this little world we all must share. The poems in Water Tiger will remain with their readers a very long time." —Larry Schug
William Kelly is a writer, painter, and poet. He went to Macalester College in St. Paul, Minnesota, earning a BA in English, and went on to the University of Minnesota where he received his MA in English and Creative Writing and won an Academy of American Poets Prize in 1993. His poems have appeared in numerous journals nationwide. He has worked as a high school and college English teacher and soccer coach; as a psychiatric nursing assistant in a locked adult psychiatric unit; and most recently as an admissions counselor and soccer coach at Bard College. In addition to writing poetry, he writes children's stories which have appeared in several children's magazines. His paintings have been shown in Minneapolis, Boston, and Albany. He currently resides in upstate New York, and enjoys fishing and canoeing in the Adirondacks.
ISBN: 978-1625491527, 152 pages