Overhead from Longing, Poems by Judith Brice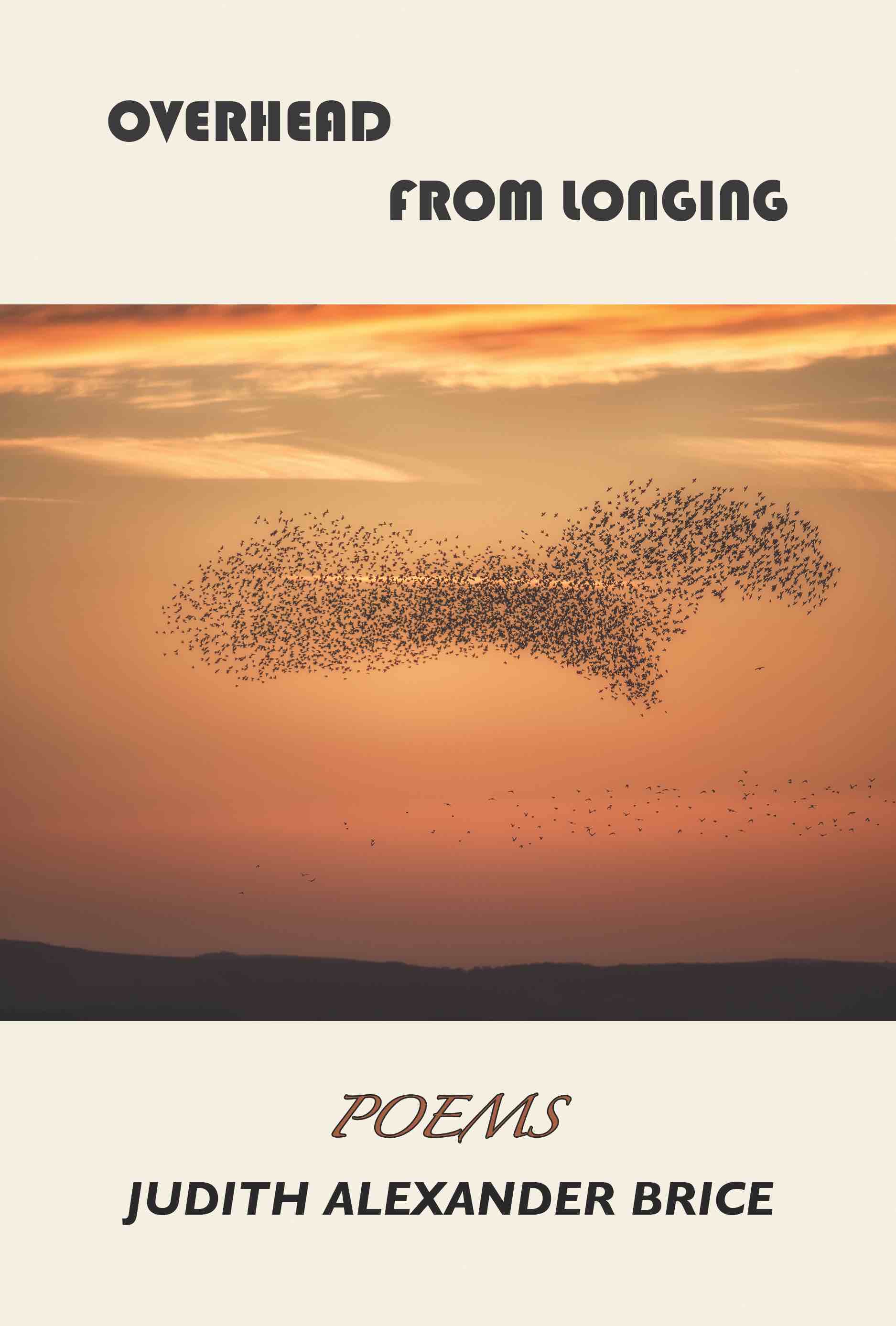 Longing describes it all: the yearning for a "cradle of molten moonlight" to underpin the vicissitudes of daily life as we seek to watch "silken embers of sun topaz the sky." In lyrical free verse and, at times, formal verse, Judith Alexander Brice depicts the treasured echoes of a life/our lives, even as they are interrupted by the vagaries of misfortune, illness and loss-and by the whims of our world.
"Overhead from Longing is a collection of poems that clearly had to be written. The poet who made these poems simply didn't have a choice. In the first poem, Judith Brice writes 'will we afford this startle/out of our indifferent selves?' And then she sets out to answer that essential question. Through explorations of the places in her life, the history that she lives through, and deep into her own experience of chronic pain, this poet tries to find a way to continue 'the struggle to sneak back/to life, to escape the torture.' We can all join her at the end of her journey to 'give thanks/that we are here/once more.' We can also give thanks for Judith Brice and the work she has done."-Keith Taylor, Emeritus Professor, U. of Michigan; Author of 12 Poetry Collections
"'More anguish/ than a soul could know/ more struggle/ than a poem can own,' ends Judy Brice's poem, 'These three years-.' Yet the poems in this collection, full of love, touch, color, plus so many birds and creatures, own it all. There are 'shadows near and far,' but a bluebird comes and 'taps the code' for comfort, survival. That's the heart of these honest and hard-won poems: out of the familiar pains-migraines, cancer, aneurysm, political turmoil-comes not a cure, but singing. These poems welcome life and are simply joyful with it. They give me much pleasure."-Fleda Brown, Poet Laureate of Delaware: 2001-2007; Pushcart Prize winner, 2009
"Readers of Judith Brice's Overhead from Longing will turn to these poems, and return to them, for the verbal brilliance concentrated here, as well as for their insight into the complexities of the human condition. She brings a great delicacy to her navigation of interpersonal relations-in a way that shows us what a blunt instrument the language usually employed for describing these same issues can be. And beyond what she brings to the poems' human universe, Brice is also a remarkable observer of the natural world. Nature, people, memory, the rich accumulation of a lifetime fully lived-it's all beautifully packed into these pages."-Richard Tillinghast, Emeritus Professor, U. of Michigan; Author of 14 poetry collections
Judith Alexander Brice is a retired Pittsburgh, PA psychiatrist whose love of nature, experiences with illness, both her own (including Crohn's disease, multiple surgeries and severe, debilitating pain) and that of her patients, has informed much of her work. She has been writing poems for many years, but started writing more assiduously and taking workshops and writing classes about 15 years ago.
Her over 45 published poems have appeared previously in The Lyric, The Paterson Literary Review, The Pittsburgh Post-Gazette , The Bear River Review, Vox Populi.com and Versewrights.com, among many other national publications. One poem, "Questions of Betrayal," appears as well in a book about the Palestinian-Israeli conflict titled Before There Is Nowhere to Stand. And one of her poems has been made part of the permanent collection of the Holocaust Memorial Center in Farmington Hills, MI.
Her first book of collected poems, Renditions in a Palette, was published in 2013 by David Robert Books. One poem from this current collection, "Mourning Calls," has been published in Versewrights.com and also has been set to music by Tony Manfredonia. The inaugural performance of this quintet with voice was in Pittsburgh on December 12, 2017. It was performed by The Tuesday Musical Club and can be heard online at https://soundcloud.com/tony-manfredonia/sets/mourning-calls .
Judy Brice divides her time between Pittsburgh and Petoskey, MI where she lives with her husband, Charlie, also a poet, and their poodle (no, not groomed to look like a freak!) and her two cats.
ISBN: 978-1625492852, 130 pages
Also by Judith Alexander Brice: