Imbibe the Air, Poems by Judith Alexander Brice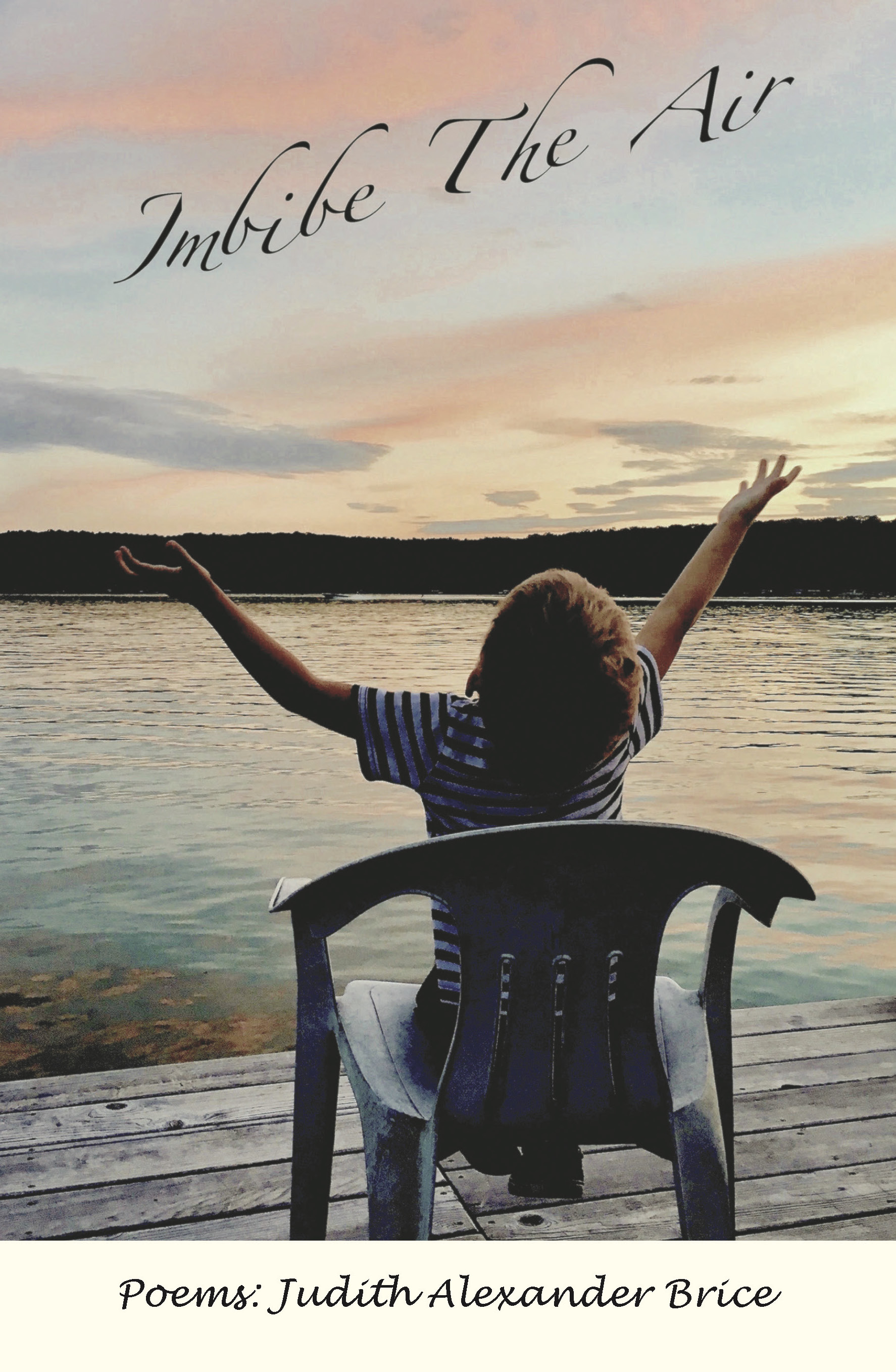 Embracing the sky, imbibing the air-these are the tools Judith Alexander Brice has chosen to grapple with illness and pain. "Think of robins, their trill of shine," she urges us, in our battles to combat hardship, time's suffering. This collection, in lyrical free verse, is a depiction of the author's fierce efforts as she holds on to nature's hope and beauty in the face of her own pain and loss, and nature's "errant tides." Yet, she assures us, "time moves on, blossoms/ to peach-[even] tugs on all yearnings yet to come."
"A former psychiatrist, Judith Brice has moved from therapies for the troubled mind to music to calm a mind: the brutal ravages of disease and pain find release in the beauty of nature. In Imbibe the Air, Brice creatively concentrates language, constructs a musical line, and projects intensity through a crystalline image: nature is the vehicle that objectifies consciousness and carries the poet beyond the betrayal by her body. Through the healing energy of days and seasons, the poet and nature become bound by love, both a visual and an imaginative epiphany, a transformation of the spirit by distraction and observation. John Keats says, 'The poetry of the earth is never dead,' then asks, 'Do you not see how necessary a world of pains and troubles is to school an intelligence and make it a soul?' As if in answer, Brice says, pain is never far away; it is like smoke wafting beneath a closed window, a 'blast that erases reason.' Keats says, 'Thou art a dreaming thing, /A fever of thyself.' And Brice replies: 'gnaw of age, gallop of pain.' Yet her goal is to create the lovely out of this torment. That for her is the struggle, the accomplishment. As patient, observer and observed, she experiences both pain and release, nature and self. This coalescing of opposites creates a tension in the poems. Nothing is ever flat. Everything has multiple surfaces; the light reflects joy, yet also the darkness." -Michael Simms: Author, American Ash; Founder, Editor, Vox Populi; Founder, Autumn House Press
"Imbibe the Air by Judith Alexander Brice is a collection of poems that bear witness to the life of a woman grappling with illness, pain and aging. And yet, for all that, these poems are filled with awe. Brice is a keen observer of the natural world. These poems sing with music and nature, but also force the reader to confront the world in all its pain and beauty. They offer solace and hope, as in the lines from Still Life with Shrapnel at Dusk '…for I stand on my own, just a/ few feet from the dark/ still alive/ still in life.'"- Valerie Bacharach, Author, Fireweed.
ISBN: 978-1625493699, 120 pages
Also by Judith Alexander Brice: